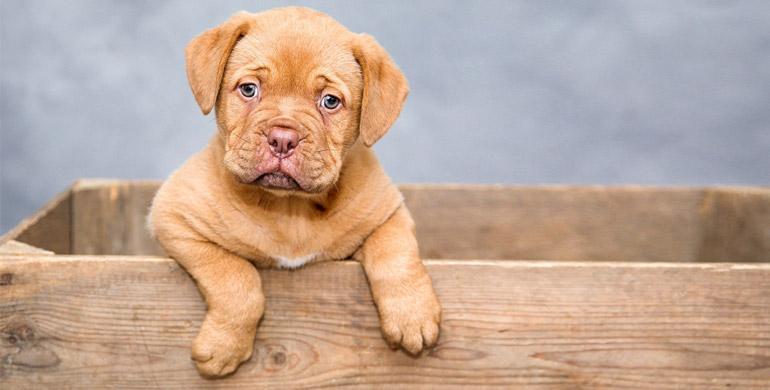 puppies Guide
You have chosen a dog and it should be a puppy?
Then it only remains to say: Congratulations! But also the hope that you have this decision think well, because scarcely an animal is sweeter, no animal is more loyal, but also hardly any animal is more demanding and requires more of you than a puppy. As cute as they are, everything they need for thair future life you must teach him. You are responsible if you dog will be an obedient and courageous dog or a coward. But that all goes well and your puppy will be ready for anything perfect, you will find all information about preparations, Selection of puppies, embossing and education.
The berth
A bite-resistant plastic basket actual best as a berth. In addition, you can equip the basket even with a soft and cuddly blanket. This allows your four-legged friends at will into a cozy nest pushed together.It should be taken to ensure that you have plenty of blankets ready, because they must be changed frequently due to hygienic reasons.
To a charming stone foam bed or a wicker basket, you should first do without it, because these berths are suitable only if your dog is a little "adult" and no longer a danger exists that he bites everything and "takes apart" that gets in the way
The correct line
Go for walkies and daily output is an automatic roll-leash, as eg The Flexi-leash, the best.The Flexi allows the four-legged friend, a free discharge, and he is still on a leash. Despite a long leash, you always have control over your four-legged friends.
Flexi leashes hanging by not because they are always under a slight train.With the help of a braking system, the handler always act on his four-legged friend and give the "commands".As a necklace, you should reasons of cost, choose a continuously variable that grows on their size.help of a braking system, the handler always act on his four-legged friend and give the "commands".
Grooming
In the first months of the daily grooming plays no significant role. Therefore, a sufficient grooming glove, massaging with your four-legged friends every now and then gently. A thorough grooming and a clean environment is the best protection against Außenparasieten. A daily brushing is for most four-legged one welcome gift.
Matted fur in places you should carefully cut out with scissors or a special comb. Dogs should be bathed only when you are dirty. It is best to use a pH-neutral dog shampoo. Dry or blow dry your pet off well after bathing.