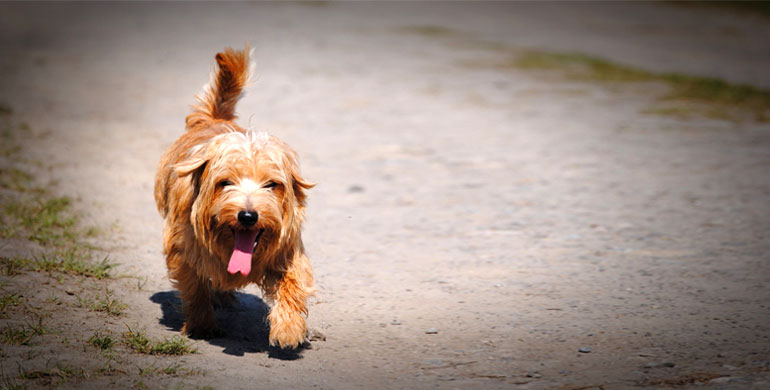 Norfolk Terrier
which comes from the East of England and was previously used for the rat and rabbit hunting. The original with the Norwich Terrier (also from the East of England, but with pointed ears) together classified Norfolk Terrier wurd 1964 recognized as a separate breed.
This little dog has great confidence Terrier. Who keeps it as a pet, should put his inclination for digging borders.
Norfolk Terrier
Norfolk Terrier and Norwich terriers were until September 1964 common breed. Both come from the English county of Norfolk, which the name of this breed.
the care
The coat must combed and brushed and supernatant and old hairs are removed. You can do this yourself or let a trimming salon. Normally should twice a Year - be sufficient - depending on coat quality. Protruding hair between the footpads to be cut.
character
Cheerful and lively, intelligent, friendly, courageous and saucy, smart, enterprising, simple, playful, obstinate.
CHARACTERISTICS
This short-legged, compact terriers were very people oriented from the outset and therefore make excellent family dogs, which apparently are recently becoming more popular. There are alert, lively, cheerful, playful and child-friendly goblins, which are characterized by steady temperament and a healthy constitution. They react with barking on any suspicious perfumed, but are not barkers.
Rearing and education
The Norfolk Terrier is a fast learner, most obedient, yet sometimes "little rascal".
Compatibility
For a terrier, this dog is relatively "slowly" in dealing with other dogs, even with children, there are actually never problems. Visitors are first announced loudly, then the ice should break but quickly.
Movement
he dog adapts to the circumstances. Usually he can to "lure" in to grabn garden, not resist.
History of Norwich and Norfolk Terrier
These two small terrier breeds are presented here together, not only because of the name similarity (Norfolk is an eastern English county and Norwich whose capital), but also because of their common origin and their (almost) identical appearance and character.
Their ancestors were bred in the 19th century in said county and were as efficient rats biter both among students in Cambridge and at the farmers very popular. It has long been both Terrier forms did not differ, but 1965 was Norfolg abgetrent as a separate breed from Norwich. The only unmistakable Under Scheid drying feature: The Norwich Terrier has erect ears of Norfolk hanging ears.